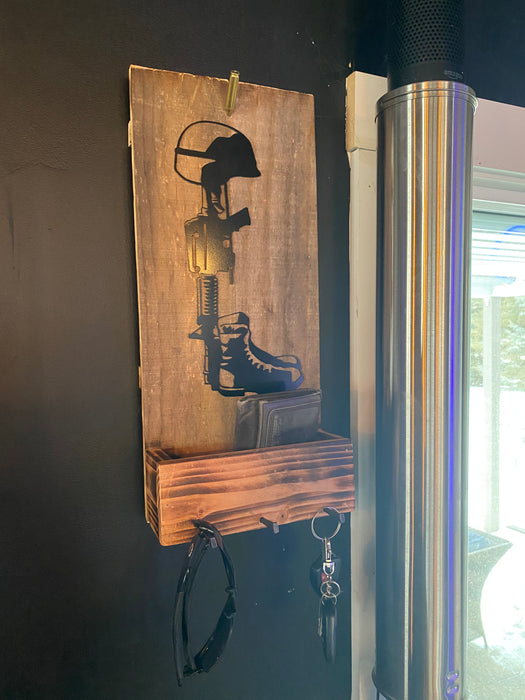 Fallen Soldier Man Rack Hat rack for the guys American Pride
Men---Are you tired of loosing your stuff, and where she moved them?Put this Rack by the door to place everything in your pockets, knives, wallet, pens, drill bits, screws, receipt from the new gun you bought...well maybe not that, (that's the gun you won) OH it also holds your hat.
Women--Are you tired of him asking where his Sh*t is? Put this Rack next to the door and there will be no excuse on where "YOU" moved them, its a good way to know if he left for the day or not too, Hat gone Man gone, call the girls and get your Drink on.
The Rack to hold all his manly things

Please choose if you want the option to have the keys/glasses holders as well.
we can modify the sign just let us know prior to purchasing
Our signs/art are artistic representations,
At SMFX we offer unique Signs, art and anything you can dream up. Custom designs are always available, we will work with you to make your ideas come to life.
We can make any size you request, just contact us for custom sizing and any questions you may have.
We make all of our items here in Buffalo N,Y, locally and not in a factory overseas. All of our work is cut by a precision laser so we can give you more detail where others cannot.
We do offer bulk pricing for our customers, just contact us.